I KNOW I KNOW this is incredibly belated. And probably will be written over the course of several days. I'll try to keep it interesting, mmk?
I never did get around to writing a report on Ragnar DC in 2012, but let me just say this: Ragnar Trail >>>>> Ragnar road edition. They're both stupidly fun events, but man, Trail has a LOT MORE going for it: it's basically trail running, camping, and tailgating all rolled up into one muddy, sleepless, sweaty, dirty lovefest with your closest friends – new and old. Embrace the dirt and stank. Embrace the slower mile splits. Embrace the rugged beauty of the trails. And try not to trip on a root and fall on your face (no I did not do this – though I had a couple close calls).
This spring was incredibly busy, and as anal and organized and as much of a type A planner as I am about a lot of things, I found myself leaning heavily on my awesome teammates for this one. They really stepped up – in particular Kelly and Ellen – to help plan and organize and get to-do lists and packing lists and buying lists and who-owes-who-what lists. And everyone had a STELLAR attitude in general through changes of plans, massive rainfall, and sometimes extra miles. So major SHOUT OUT to my amazing Ragnar teammates for team Everything Is Awesome (complete with Lego shirts and lots of singing. It was our mantra for the whole weekend, especially in moments when we felt like we and our race may just fall apart.
Pre-race
Packing piles forming.
Friends came from near and far, by plane and by car (yes – that rhymed; deal with it). Ellen and Lara drove ALL THE WA DOWN from Pittsburgh, Tim and Alys, Danimal, and Kelly flew into ATL, and Kelly rented a car, and hauled them all in. This was Thursday night, and we all arrived within an hour of each other at Casa Quinnwitz, which was SO READY for all these runners…some of whom had to sleep on an air mattress, the L-sofa, and the floor. SORRYLOVEYOU. Big house, not enough furniture.
We ate, drank, and were merry, and tried (but mostly failed) to get to bed at a decent hour. But the amount of sleep we got was still going to be better than Friday night's sleep (approaching zero), so we took it in stride. We'd been stalking the forecast all week, and it foretold rain: thunderstorms intermittently through the afternoon and night. We'll get wet, we thought. It'll be muddy, but we'll be cautious and we'll have fun and it doesn't look too bad. Let's just get there early and set up camp before the rain comes.
Oh, how innocent. How naive.
We did make it to the Georgia International Horse Park an extra hour early and found what we thought was a good spot and swiftly set up camp, checked the team in, and began the eating and merry-making.
We split up our group to watch the safety briefing video – which was necessary and fun and silly – so that half the group was watching camp and the other half watching the video as mandated (though I don't think they actually took attendance in any way. *shrug*). We tooled around for a good while longer, but as our team's 3:30 start time approached, it was game time!
Our team roster and runner order looked like this:
Alys
Me
Kelly
Tim
Shannon
Ellen
Lara
Danimal
Round 1:
For those not familiar with a standard Ragnar Relay, it goes like this: 12 runners run a total of about 200 miles, each running a range of distance legs; each runner runs three legs. Two vans leapfrog from stop to stop (six runners in each van) for each hand-off. Instead of a baton, you hand off an orange Ragnar slap bracelet. That is pretty fun. It's a lot of fun, but a whole lot of rushing around and driving and logistics.
Ragnar Trail does it in a pretty nifty way: every runner starts and stops from the exact same exchange tent, and there are three loops that everyone runs (in a different order – I'll get to that). The green loop is relatively easy; the yellow loop is moderate; the red loop is hard. Inside the exchange tent, volunteers man the tables full of slap bracelets: some red, some yellow, some green; the runner grabs the color they're about to run. This helps the volunteers know where to direct the runner, and helps the delirious, over-tired runner remember, "what am I running? [checks wrist] OK red. Got it." As a runner comes in, finishing a leg, they run across a mat that matches the color they just ran, and the teammate they're "handing off" too is on a mat directly in line with that one, of the color THAT runner is about to run. Easy peasy! Brilliant logistical management. The pattern of the colors always goes green, yellow, red; so the first three runners had those first loops: runner 1 started green, runner 2 yellow, runner 3 red – rinse, repeat for runners 4, 5, 6 and so on. So the order per runner varied, but after the first three runners we could all give each other tips about what the route was actually like.
Alys headed us off on her green loop in thunderous glory! Look at that fierceness.
Before long, it was time for me to start my first loop! It was a hot, sunny, muggy afternoon, and I figured I would adjust my effort based on the conditions.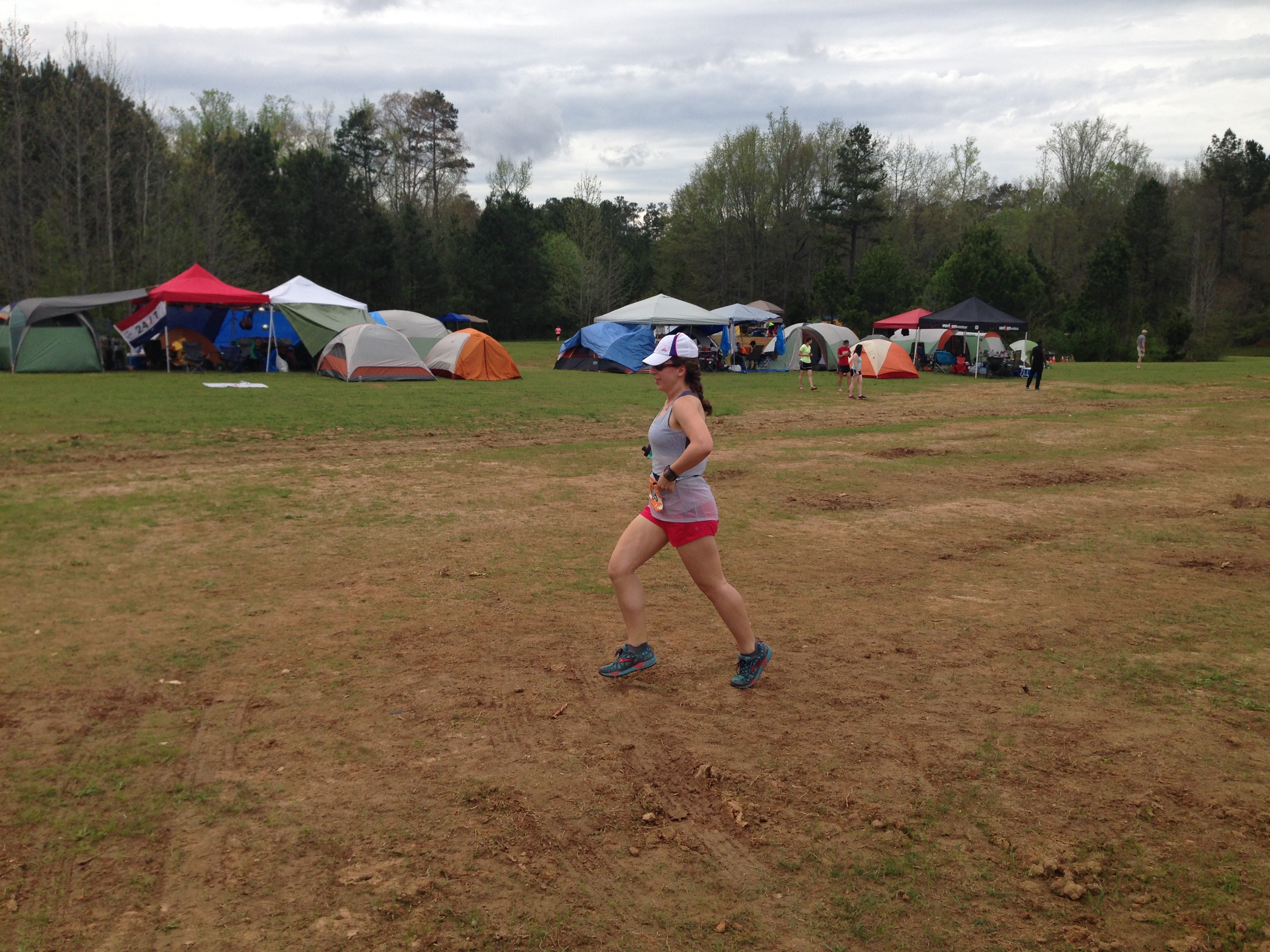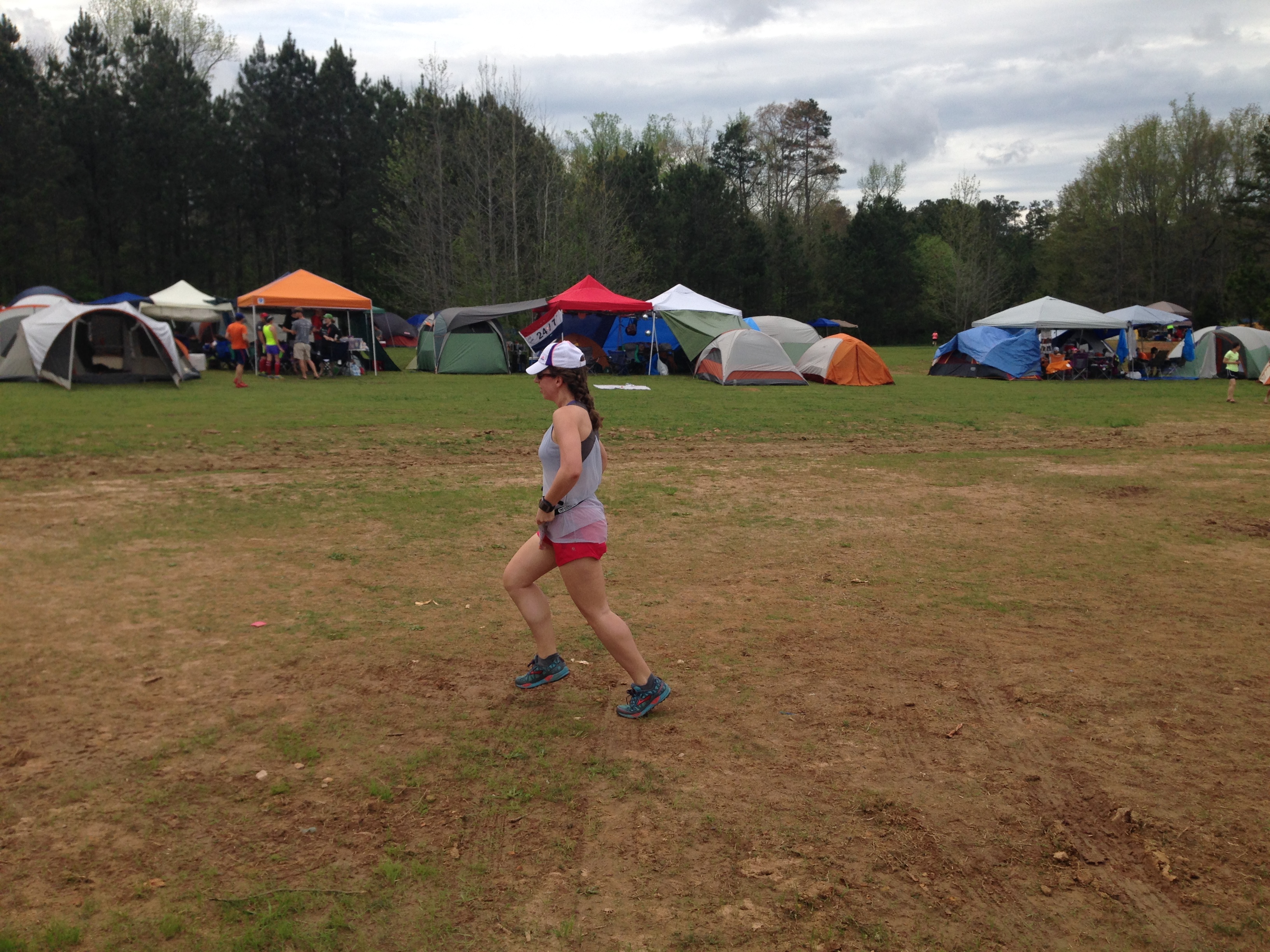 Yellow loop was rolling but gorgeous. Some parts were shaded; others were exposed. All were beautiful. I did take a few walk breaks, but my effort was somewhere around 10K-half effort and I managed to stay very evenly in the 10:15s (pace doesn't matter to me for these – for reference, my 10K pace is low 7s; half is 7:30s-7:40s, so it's a massive difference. But effort is everything when racing on trails). And I had an absolute blast. Part of the loop joined up with green, so I got a little preview of what I had later. From steep, rocky switchbacks to pine-covered forest floor…just divine.
I handed off to runner 3 – Kelly – who gave me  a big kiss on the cheek and immediately regretted it when she picked up all the sweat from my face! Ha! (loveyousorryaboutthesweatykiss!) She kicked the shit out of the red loop and came back positively giddy. We were all well on our way to being completely trail drunk. Time was up next, and then my hubby, Shannon. We noted with slight trepidation as the sky was growing dark prior to Shannon's loop.
Maybe 15 minutes after Shannon started his loop, it absolutely opened up.
It POURED. For like, an HOUR. I fought panic and knew Shannon would be smart and adjust pace as needed. I knew he would come back in one of two moods from what was now a slip-and-slide mud run (or growing rapidly so) through driving rain: A.) pissed and annoyed, because EFFING RAIN; or B.) little boy happy because YAY RAIN.
Spoiler alert: it was option B.
Only caveat: as Shannon came roaring in after his run, instead of handing off to Ellen – who was caffeine gel'd up and ready to run up until maybe 30 minutes before, he was handed a card with his entry time on it, at which point he learned what we had just discovered: we were under a one hour lightning delay. An hour from the time on the card, we were to send out not Ellen, but runner #7, Lara – yes, Ellen would be skipped, and Lara would run after an hour delay.
Well, that didn't quite happen either. It was then extended to two hours, skipping Lara as well, and runner #8 – trusty anchor Danimal – would be running next, two hours from the time on the card.
We were frustrated and distraught. In addition to the two hour delay, throwing off two runners – the rain was still driving and we realized the water level in our little campsite was rising. We noticed we were right on/near a floodplain, and water poured into our area. One corner of our big tent got muddy, though luckily most of our stuff was spared (some of Ellen's stuff got soaked. UGH).
We quickly tried to mitigate the situation. Our common area was muddy and ankle deep in water. Tim and Ellen engineered the mud to make a dam, separating the flood plain from our site and slowing the water flow a bit. Most/all of us gave up on wearing shoes between our legs, wet wiping and toweling off to get in our tents and changed when needed. (I have to say: after spending like 12 hours barefoot in mud, my running callouses have honestly never looked or felt better. Pro-tip. Save your money on that fancy salon or pumice that looks like a cheese grater. Play in mud! I also had been having issues with literally ripping the callouses at the base of my baby toes, to the point of bleeding, and these also held up and HEALED amazingly well. Not to be TMI about it…but we're all runners here, right?) I was riding the line between trying to make the best of it and keep on a happy face for the team and fully freaking the fuck out. We were stuck here. In the rain. Two runners skipped. No end in sight. And the trails were going to be an absolute. mess. Also, it was nighttime, and we were going to have to run in said mess in the pitch black darkness.
Round 2:
There's that point where you cross over the full-on panic point and embrace the shitty and just make the best and have fun. It took me a while, but I got there. We realized runners were allowed to use pacers. Danimal was up next after the rain delay, then Alys was running red – the hardest loop, and the one Ellen had been skipped on – and I was running green just after – the loop Lara had been skipped on. Why not bring the along as pacers? It wasn't the most ideal way to get their miles in, since it shortened their recovery between their first and second runs, but if they wanted to run it, Alys and I so welcomed the company.
So after Danimal finished his first loop, Alys and Ellen – all gel'd and headlamp'd up – ventured out into the muddy, dark red loop for the longest trek in probably the toughest possible conditions. They finished way quicker than expected, and Lara and I weren't even ready for them. D'oh! But we rallied and headed out together on the green loop, taking it SUPER easy and calling out obstacles to each other. Mud! Rock! Muddy rock! Root! We bunched up with a few different people a few different times, chatting with them and likewise calling out obstacles. It was great camaraderie and so much fun. We both slipped a bit a few times, but no one bit it. A great success. We came in through the exchange strong, and I handed off to Kelly, who darted into the night.
Round 3
As our runners darted in and out, trading war stories about the extreme mud and slop, how well our dam was holding up, and how much some of the mud pits honestly looked like poop, we took turns fueling and napping. Next time we'll bring fewer sweets and more salty snacks, since we were devouring those (including stealing a lot of the dill pickle chips our lovely volunteers brought – to share, but still. Hungry runners are scary around all food). We partook in the free dinner (pasta with tomato sauce, veggies, and salad) when we were able, and I had a bagel, peanut butter, and banana towards morning as my last-leg/brunch/whatever it really was fuel.
After some restless but still better than nothing sleep and some fuel, it was time for my last leg- the toughie, the red loop. It was sunny and warm but I was ready to have fun and conquer the wilderness, at whatever pace that meant.
The route started through and around the campground and along the road for a bit before dipping down onto a wide fire road. I knew the first few miles were flat to downhill, so I cooked along at half-marathon effort and alternately had a big dumb grin on my face, or a look of awe and joy. I yo-yo'd with a few runners, trading passes and greetings. At one point, I passed this very large man, and we exchanged pleasantries and commented on the beauty of the trail. A short time later, I came across a section I had heard about from others, which was passable only by grabbing onto a nearby tree and hoisting yourself up. Given the heat, I was carrying my handheld, so I thought fast and clipped the strap of it onto the waist strap of the race number, then grabbed the (small) tree with both hands and yanked myself up. I glanced  back and saw the man was not far behind me, so I waited a moment and offered him a hand. "Are you sure?" he asked. "Of course!" I said, and heave-ho'd and he was up. "You're like superwoman over here!" he said. And we both laughed and carried on our way.
The sun was rapidly drying things – in fact, there was some clean-up happening at the campsite at that moment as they moved the whole thing several feet away from the flood plain mud pit, and took a few tarps down to dry – but I still had a couple of extremely steep downhills to navigate, and I took these very slow to avoid wiping out. Then came the toughest section: half a mile of granite slab, totally exposed, slick in places, rocky in others, and almost missed a sign and went the wrong way (I righted myself very quickly). I was starting to get tired as I passed the golf course, but knew I was close to finishing, and also didn't want to wish away these last moments on the trails. I came out of a section and…there was the timing mat! (that's the other thing – we cross a timing mat with .2 to go on any leg, and the team flashes on a screen so you know to get your ass into the exchange tent!) I hauled ass into the finish with a grin, handing off to Kelly one last time.
Our runners clicked off their last runs, laughing and smiling; upon finishing, everyone really scarfed down the food (they also served a paid lunch in the main tent; it was decent) and continued cleaning up the area and packing things. Everyone was in great spirits, even as the day was winding down and the fun was drawing to a close.
Let me talk about Danimal for a second, though. Danimal is a champ. Danimal is the king of jokes and goofballs, and I have never seen him without a smile on his face for more than, like, two seconds. Danimal is ultra-training – specifically, in May, he had a weekend of back-to-back marathons. So he was used to some major miles on weekends. We were all totaling about 15 miles of trails for Ragnar. But Danimal? Well, he went a little extra. Lara had her red (tough) leg still in the dark, and she's a (relatively) newer runner and fairly new to trails. This was also her first Ragnar. Danimal – champ that he is – ran that leg with her, and then headed right out onto his next leg. He was also our anchor runner, and his last leg was that same red leg, and he cruised in with a grin and a triumphant fist pump and his stuffed penguin Dr. Gregory still pinned to his shorts. We rewarded his amazing attitude and sportsmanship and team player-ness by giving him the race bib. He earned it!
We crossed together while singing "EVERYTHING IS AWESOME" though there was little pomp and circumstance from the race directors and volunteers. Our late start time meant that a lot of people had already left! Oh well. We enjoyed our finish antics.
We got our (seriously dangerous) bling and took a finish photo together, grinning like fools.
Post-race
So much celebrating! Tim and Alys headed out to see Alys' parents in Atlanta that night, and the rest of us – after packing up the cars and driving back to our house in Athens, partied until we were just too pooped to party anymore (spoiler alert: we all crashed early). It was a nice evening and we sat outside, drinking beer, eating pizza (Kelly is a master of ordering delicious pizza – seriously), and taking turns showering off the mud, sweat, and grime. We were elated, exhausted, delirious, giddy, and trail-drunk.
Would I do it again? Absolutely. In fact, we've been spitballing ideas since…the moment we finished, or even before we were totally done, to be honest, on when and where and how we'll do the next one. Maybe even West Virginia in June 2016! We shall see… It remains an expensive endeavor, but I would say a LOT less so that the traditional, 12-person team with team vans to rent and possible hotel stays Ragnar. If you like dirt, mud, trails, beer, camping, not sleeping, tailgating, possibly getting rained out, getting sunburned, you should definitely do this. You'll love those smelly people forever.