Step 1. Take some time off
Actual: Take four days off of running, go to Pilates on day three, spin on day four (gingerly), and try to run probably too-many-miles on the return day. All I can say is thank goodness I was meeting Danielle at a coffee shop that's a quarter mile between our two places. That first quarter mile would've been painful for her to witness. Something funky was up with my right knee – it was tight and a little painful, and those first several strides were very herky-jerky. It loosened up, and I didn't think too much of it. I just needed more rest. I iced, ibuprofen'd, took a couple more days off running.
Step 2: Don't race for a while, especially if you kinda blew up during the last few miles of your marathon.
Actual: Umm… about that.
The Pittsburgh Great Race 10K was my very first race ever back in 2010, and I have run it every year since. This year, back in the spring, I had received an email from race organizers, inviting me to be a seeded runner based on my 2013 finish time. Inviting me. How could I *not* run this event in 2014, even 8 days out from a marathon, when I was going to have a seeded bib?
The other, and almost bigger, factor was this – we're leaving Pittsburgh. My husband, who sits next to me now working on his thesis document, is defending on Monday, and in mid-December, we are departing our home here to make way for Athens, GA, where he will work at UGA and we will enjoy a whole new running community. I had to run this last one for the foreseeable future. Had to.
The in-laws were in town, so we headed downtown mighty early to get on the 5K bus, before going to close our eyes a few minutes inside my warm car before heading to our own bus. A long wait and a couple porto stops later, I went through a VERY painful warmup, where my knee still felt terrible and stiff, but seemed to kinda-sorta loosen. I jogged, butt-kicked, high-knee'd, carioca'd and prayed my knee into motion before squeezing into the very back of the seeded area and vowing now to race faster than half-marathon-ish pace. I had left music at home to further discourage myself from racing.
Well, I almost kept to it. But the excitement of this race – being my last one, being such a beloved one, being seeded – and the fact that it was my first race in my new Oiselle singlet (yes, I joined the flock – I hesitate to say I'm on the "team" since this segment of it is more frequent-buyer-membership, but it remains a fantastic community, and I love that a portion of my fee supports their elite athletes), and I'd already met a few new bird friends.
I worked the course as I've learned well to do over the last few runnings: a lot of up first mile, down second mile, up third mile, down fourth mile, up fifth mile, and SCREAMING down for mile 6. My pace dipped into the 7:1xs a couple times, but I let it slide back a little when we hit the rough part, Blvd of the Allies climb, striding along side a struggling runner and giving her a couple words of encouragement as we conquered the hill. I let myself kick that last mile and cruised to a 46:29 finish (7:28 avg, a little faster than I had told myself I would run).
And oh, the birds I got to meet (and see again, or meet in real life after knowing on twitter)! A really cool group of ladies.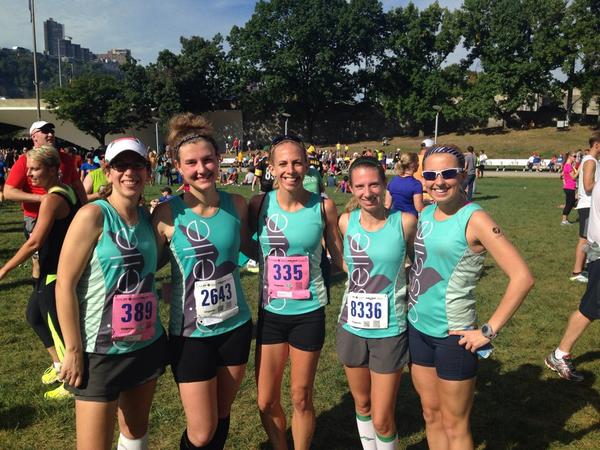 Step 3: Once you've tried running again post-marathon, if things are still hurting, take more time off, assess, and perhaps consult a sports doc.
Actual: I totally aced that 10K, guys, it was such a great tempo effort, I love running, let's run 4 miles two days later!
Or, you know, limp painfully for four miles. It sorta loosened, but really didn't. I had to do something. Stat.
Finally, I decided to be smart and take at least a week off. I made an appointment with my primary doc (damn insurance requires a referral to a sports doc) and during that week of wait, I did all non-impact cardio (rowing, cycling, elliptical), plus weights, and anything else I could think of that didn't remotely irritate my knee. I saw my doc the following Wednesday, shirked off annoying questions like "how did you hurt your knee? so you hurt it running a marathon?" and "maybe you didn't take enough time to rest it?" and politely and firmly asked for a sports doc referral. Got to THAT doc a week later, and having taken time off from running, doing ample cross-training, and doing a 1-mile test run the day before that appointment (after a thorough warmup) and felt no pain, he greenlit me to run and build mileage (smartly) and wrote me a script for physical therapy. Yes!
Step 4: Use PT as a way to work on muscle imbalances and work on kinks. Cross-train!
Actual: Yeah, this part I did right. I saw a PT twice a week, and after being embarrassed twice (once by the sports doc, then by the PT) with my weak hips – "ok, lay on your side, left you leg, I'm going to push down and you resist" *collapse* "yeahhh…." – it was decided that what I really needed was a hip strengthening regimen. And boy did my PT deliver.
Weak hips in runners are pretty much the cause of all ills (or so it seems to me, a non-medical-expert), and in my case, weak hips, especially the right hip, were letting my knees collapse in and putting too much strain on them, thus giving me classic patellofemoral pain syndrome, aka "Runner's Knee."
I now have an arsenal of hip exercises – some basic, everyday strength ones where all I need is a band and a space of floor or yoga mat – and some machine work for days I'm at the gym. By the end of four weeks of biweekly PT, daily strength exercises, and weekly machine work, when he tested my hip strength, it was "a gazillion percent better." Though apparently my hamstrings are still problematically tight.
I now do my exercises 2-3 times a week, with one of those days being a full legs workout with machine work. Weak hips be damned.
Step 5: Using your new PT tools and including lots of XT still, build your mileage back smartly to a comfortable base for your off-season
Actual: Still in progress, but going well!
I'm still supplementing mileage with the elliptical (bleh), attending Pilates Tuesday nights whenever possible, doing arms workouts once or twice a week, going to Wednesday spin, doing my PT and strength work, and running…increasing mileage very slowly. I avoided running two days in a row for a while, and am still proceedings with caution in that respect, though it seems to bother my knee less and less. I ran 8.5ish a week before the EQT 10-miler with the hubs and Kim, and it felt awesome, despite the brisk chill on that otherwise lovely morning.
The closest I had to a knee pain relapse was the week after EQT, when I raced Sunday, took Monday off, ran Tuesday, and then proceeded to take the rest of the week off from running until a longish run Saturday (which felt fine) when my knee felt not-so-hot, especially going down stairs. I think I raced harder than I thought. Speaking of…
Step 6: When all-systems-are-go, return to racing (for fun! it's the off-season, after all).
Actual; Well, I mean, yeah. But at least I wasn't injured for this one. We hadn't done EQT 10-miler last year so definitely wanted to give it a shot this year. Kim scored a last minute bib, so we decided to try to run it together and prevent each other from racing too hard. We'd been thinking low 8:xx pace, but as race day neared, we both wanted to challenge what we felt were soft 10-mile PRs (all the 10-milers I've done were done as training runs at half-marathon pace. Not easy, but not all out either for the distance). Suddenly we found ourselves amped to run in the 7:40s.
The day dawned cold, but we all quickly realized we overdressed, as the any wind was mostly blocked or absent (minus a couple wind tunnels) and the sun made it pleasant. That was okay, it was still doable, especially for "just" 10 miles. I always forget how to dress for 40* when I'm not yet acclimated, especially while racing when blood is running hotter.
We clicked off miles in the 7:40s and 7:50s, feeling good and soaking up the sights – the view of downtown from the West End Bridge never fails to give me chills. The front half of the course was windier and chillier than I expected, and while we whined about that occasionally, we were still running very strong.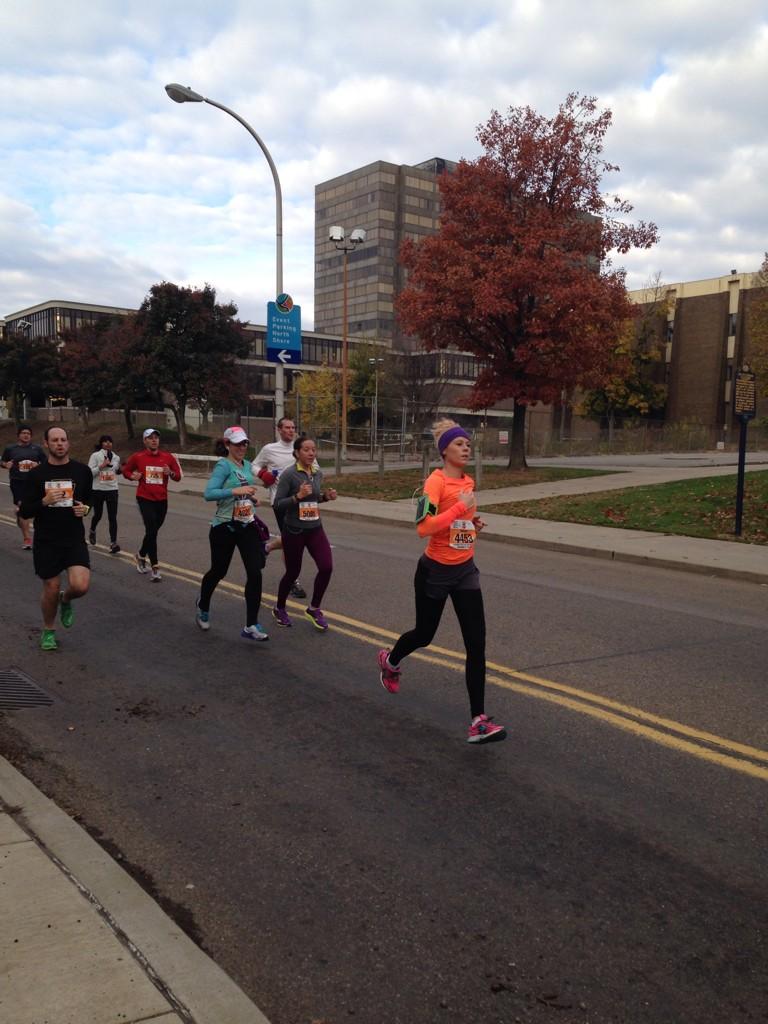 Around mile 6, though, by an aid station, I lost Kim. As I tossed my cup I looked around for her but realized I had dropped her. We crossed the 16th street bridge and I tried not to panic. I lost my buddy. She was keeping me honest and calm. What if I freak out and blow up, right now? Can I hold this pace? I examined my breathing and stride, realizing I was fine, and told myself to suck it up and soldier on – Kim wanted me to, I knew it. If the situation were reversed, I know I would want her to go kick ass.
We had a couple out-and-back like turns and my perfectly on point playlist got me back to a better mindset. The last couple miles are a long, straight stretch, with a full view of downtown. I'd been warned that part gets mentally grating since you can see for so long, and I was glad for the warning. But as the finish came into view, I skipped to my final song and kicked hard, clocking in a low 7:1x mile for a solid PR: 1:17:10 (with a negative split! 7:49 pace first half, 7:43 pace overall). I had sacrificed a glove to the running gods for that PR, too, having tucked my gloves under my arm at a water stop, and – between juggling the cup and an empty Gu packet – realizing one had slipped away as I reached under my arm for them. Damn.
Kim also PR'd and we celebrated with some Starbucks.
The next several weeks will be hectic ones – the move is taking everything I have right now – but I won't be letting my running or strength work slip. Running is keeping me sane, and on Thanksgiving, we'll earn a little extra turkey and potatoes by running the Aurora Farms 4-miler again that morning (hoping to crush my EXTREMELY soft 4-mile PR). I'll be soaking up every last bit of Pittsburgh running I can, and hopefully will start next year as a strong, invincible, newly minted Georgia runner.